Print Service
We offer a wide range of print and art working services for small, independent artists and creatives right the way through to large commercial businesses.
Almost anything can be screen printed, and we can offer services to businesses and individuals looking for that personal hand finished, unique product.
Garments
T-shirts are by far the most popular garment we print upon, however we can and have printed on to tote bags, hoodies and even coats. Whether it's a run of 10 or a run of 100, get in touch to find out what we can do for you in regards to garment printing.
Paper
Printing onto paper is where we started with screen printing — and still proves popular for artists and designers looking to make their mark through the traditional medium of print. Whether for a limited edition of prints for sale, a private project or for gifts — printing on paper is an area in which we specialise.
Stickers
Whether for band merchandise, personal projects or to brand items, printing on stickers is a great way to make your mark. We offer a bespoke die-cutting sticker printing service onto quality vinyl stickers which far outlast digital paper sticker printing.
Packaging
As a natural extension out of paper, printing on packaging is something we can do for you. Boxes and bags are perfect examples of packaging and these are often areas that digital printing cannot reach without the expense being high.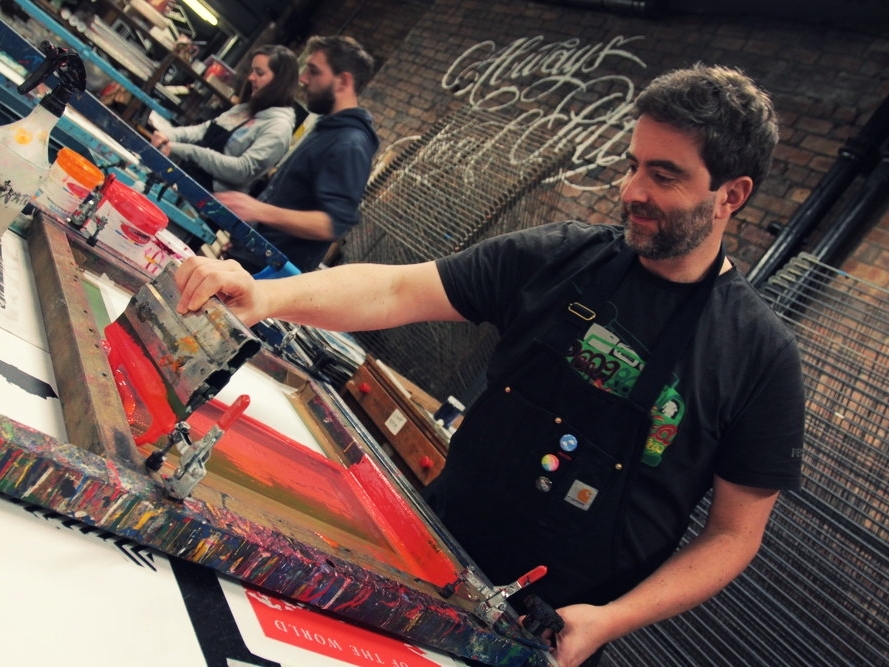 We host a variety of regular screen printing courses to suit people of all abilities — from beginner classes through to advanced sessions.
Hosted across 3 evenings, every month
Taking one of our three week courses gives you a broad insight into the process of screen printing. Held over three evenings, across three weeks, from 18:30 – 20:30 every month, you'll learn where the process begins — on the computer. From there, you'll learn about positives, how to get your exposures perfect, before hand pulling your own designs onto paper.
Course cost
£175 per person
(Discounted to £150 per person for a double booking)
Places for each workshop are limited to 5, so its advisable to book well in advance. Once we have received your booking we will send you a confirmation e-mail. If you are unsure about any aspect of your booking, please drop us a message and we will be glad to assist!
Week 1
Welcome! Come in, grab a drink and introduce yourselves. We're looking forward to working with you. Participants asked to bring any artwork that they may have for us to see and advise you on for printing during the course. In the first session we will cover all the fundamentals of art work setup, screen selection and exposure as well as discussing the applications, pros and cons involved with in screen printing process.
Week 2
Participants will produce test prints and learn about the many variables involved in the screen printing process. You will learn about registration, ink choice, squeegee techniques and good printing practices/tips. Participants will then transfer their own designs onto screens and mix select their ink ready to use in the following weeks workshop.
Week 3
In the final workshop you will produce your own 2 colour print using the techniques and skills learned in the previous sessions. GFSmith paper stock will be provided and each participant will be able to take home up to 20x 2 colour A4 prints of their own design!
Participants are welcome to bring their own paper/card etc to print on in addition to what is supplied.
We believe that printmaking should be accessible on any level!
By opening our doors to the public, everybody has the potential to broaden their skill set, get advice from like minded creatives and even turn their talents into new business opportunities by producing their own prints, stationery and clothing lines.
Sign-up explained
As easy as 1, 2, 3
1.
Aside from hosting the practitioner led workshops, we also have a membership scheme which allows you to book out the workshop and its facilities to use in your own time. The workshop can be booked out by members any time from 9:00 am - 9:00 pm 7 days a week subject to availability. Once you have completed a print course, you can become a member of the Print Shop.
2.
However experienced you may be as a printer, all prospective members must sign up officially and go through our induction process in order to use the facilities. The induction is 1 hour long and costs £10. It will consist of a tour of our facilities, summary of our rules and operating practices, health and safety, fire briefings etc. members will sign a disclaimer and contact details will be taken.
3.
Once you become a member of the workshop you have lots of options available to you for using our space so just pick the one that suits you best. Our inductions sessions can be booked online via the link below. All other membership purchases such as bundles, screens substrate and ink will be sent via Pay Pal invoice.
W.e regularly work with partners all around the country, live printing at their events.
Mobile print shop
We have a range of table top equipment that makes for a fun and engaging activity for visitors at both indoor and outdoor events. We have extensive experience printing live all over the country, as part of exhibitions and promotional events.
Book us
Screen printing as an activity is often a memorable experience for staff, customers and other stakeholders — it's fun, hands on and creative! Get in touch today to find out how we can work with you to help make your next event extra special.